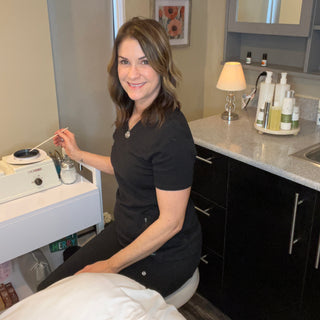 Hello, I'm Carol!
I am the founder of Simply Pure Skin Studio. I have been an esthetician for over 31 years, with a primary focus on facials. I am certified in acne peels, advanced peels, dermaplane, reflexology, and corneotherapy, bringing a wealth of knowledge and expertise to my clients.
Entering the world of esthetics was personal odyssey for me. I suffered from acne well into my 20's and wanted to find a way to treat my skin without going the medical route. My own experience inspired me to help others struggling with similar issues, which led me to create Simply Pure Skin Studio.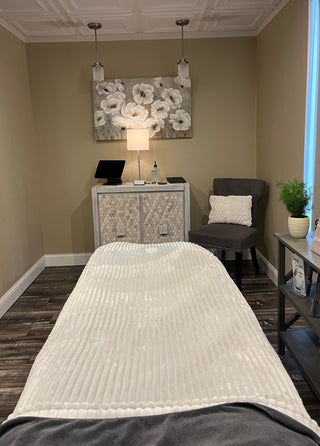 I have a passion for finding solutions to skin issues. I am always researching and learning. Finding a non-invasive approach to skin care challenges is my top priority. I am dedicated to creating a space where my clients can relax and unwind while experiencing a result-driven facial that brings a sense of calm. Facials should not only be about achieving the desired outcome but should also be an enjoyable experience.
What makes me unique is my ability to understand my clients' needs and desires. As a woman in my early 50s, I know firsthand the desire to turn back the clock on aging, but I also believe that there is beauty in aging gracefully. I encourage my clients to embrace the skin they're in. There is beauty in those smile lines!
Outside of work, I am a wife to my wonderful husband and proud mom to my teenage son. My family includes a cat named Sammy and a dog named Riley, a German Short-Haired Pointer that wears me out more than my teenager! In my free time, I enjoy boating at Lake Erie, skiing, and anything outdoors. We took a recent trip to Alaska and I fell in love! We hiked, visited five-time Iditarod Champions, and I even got the chance to drive (mush) my own dog team! I'm also a true crime junky and love reading psychological thrillers.
Above all, I want you to know that I am passionate about providing exceptional skincare services that not only meet but exceed my clients' expectations. At Simply Pure Skin Studio, you can expect an experience that is not only effective, but personalized and relaxing.